Wave Music
CROWDFUNDING THE SHOWS YOU WANT TO SEE

Wave Music is a crowdfunding platform for fans & artists help kickstart concerts events, resolving the fundemental problem for smaller scale concerts; not selling enough tickets, booking a venue and estimating an accurate budget for overall artist fees and cost that go towards an event. Wave is a platform, enabling fans to see their favorite artist by voting.

RESPONSIBILITIES

Creative Direction
Concepting
Wireframing
Prototyping
Design
Branding
Copywritting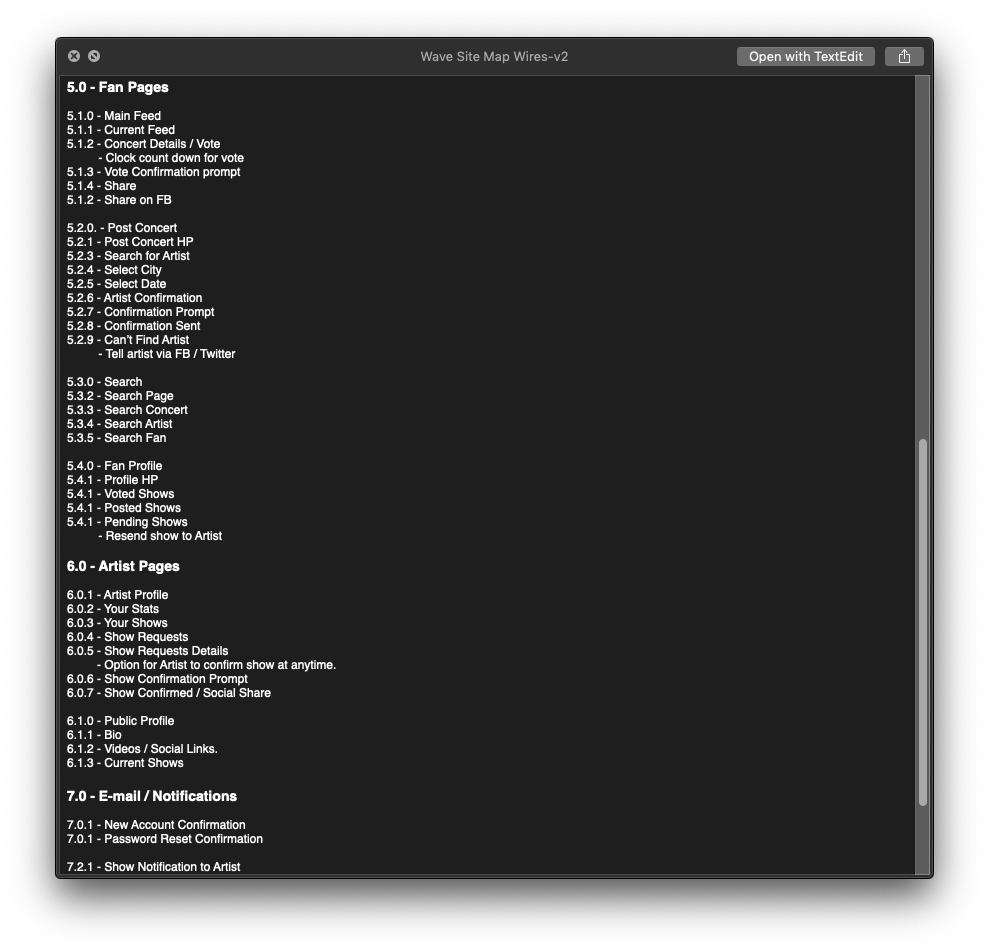 STAGES OF ADAPTATION

In the early stage of the process, I created a site map from scratch to help narrate the user flow – telling the story of how an event would be submitted and processed between user A) Fans & B) Artists. The platform provided a much more direct form of communication and point of interest, enabling the fan to initiate the event and voting system.

by working out the site map workflow it help resolve the question of payment, transaction and promotion strategy.
PROTOTYPING
Wireframing, and prototyping went through a few phases to help further develop the user flow and interaction, allowing with ease of how the platform would work for future users and shareholders.
The initial prototype help secure funding, and create confidence towards hesitations and prominent caution held within the music industry— as it is one of the most challenging creative industries to obtain a sustainable income.
View Prototype
DESIGN EXPLORATION

Design implimentation and wireframing MVP, website and early beta, along with tracking analytics, and overall strategy. User growth and early platform adoption with artists and vendors, expanding the platform's early database.

In addition to product design, I was responsible for overall brand vision; Concept, Video Direction, editing, UX Design for iOS, wire framing, prototyping & social content.

HOW TO IDENTIFY SPACE?

To push awareness to the wave platform, we created content videos— showcasing an intimate segments with performers, launching videos on social outlets reaching organic growth prior to the event.

Within a timeframe of a week — I directed, shot and edited a short social video, showcasing the toronto performer "Miracles," (aka Jahmal Tong) encompassing the concept of Space and what it meant to the artist.

Jahmal successfully achieved ogranic reach and awareness of his project by reaching over a 100 likes and created a new fan base for Wave by sharing this piece via Instagram and Facebook.

SHIPPING & BRANDING

As beta was ready to launch, we created a final push on the design to lighten up the tone and add more depth and color to the app.

Slight adjustment to the typography by adding Octavius bold for headlines and creating constrast in type.