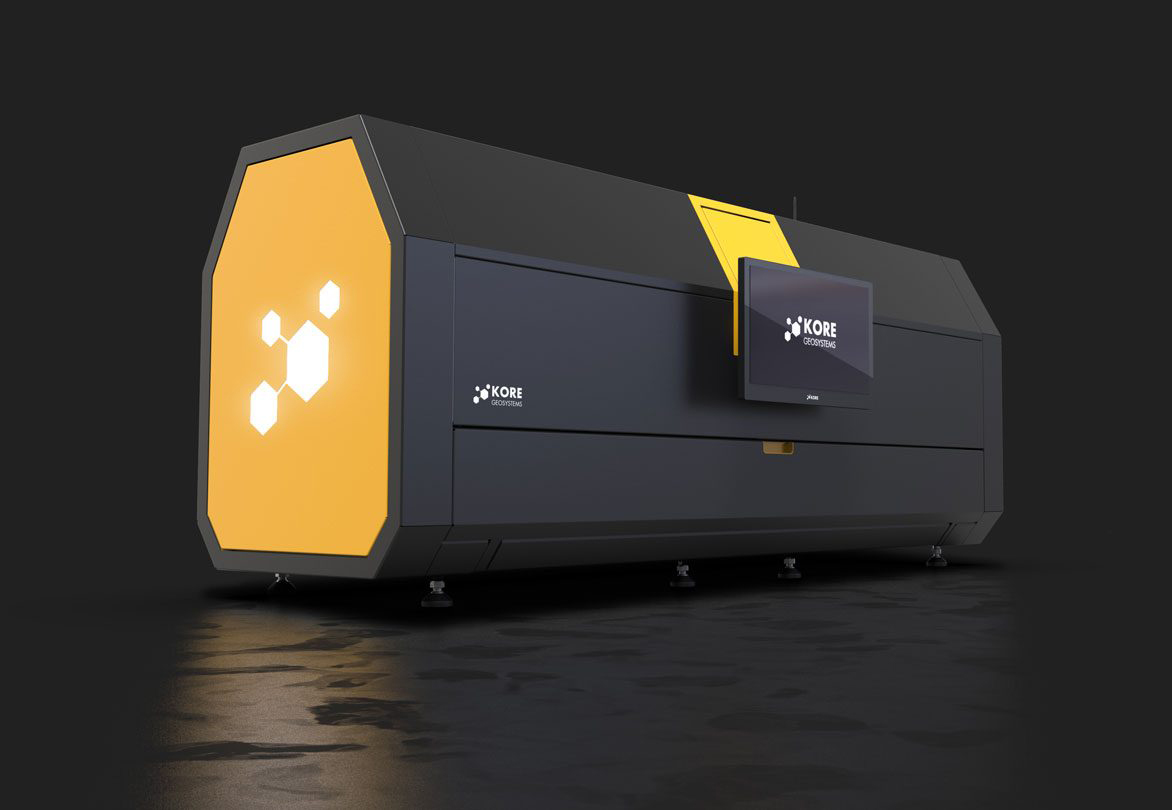 KORE GEOSYSTEMS

DEVELOPING THE CORE

Kore Geosystems develops technologies that combine real time quantitative measures and robust data analytics to deliver critical decision making intelligence at an unprecedented speed and resolution. They influence large scale process improvements leading to substantial cost savings, significant risk reduction, and improved speed to market.

I was hired to help KG design SPECTOR, a product that would help geologist scan, calculate depth, and catalogue all rock core data by using AI and machine learning. A cloud server would store data and hi resolution scans of core boxes —allowing any future editing to all contents.





RESPONSIBILITIES

Creative Direction
Concepting
Wireframing
Prototyping
Design









EXPLORING DESIGN

During design exploration, there were two key components to consider :

1) Core Box Visibility
2) Touch Screen Accuracy & Legibility.

The sizes of core boxes would differ based on geographic locations, future thinking had to enabled for the design to create efficency. The flexibility of a zoom function — in order to see the rock clearly, without too much navigation or interaction clutter.

Practical design and navigation standards were applied to ease the use of the product, especially for early adaptations for labs to learn and test the system.





CASE STUDY - GOLDCORP
The overall objective was to improve consistency, quality and timeliness of geological data captured so that geologists and engineers can spend less time acquiring data and more time interpreting it. Ultimately making better and more informed decisions.
Kore suggested a proof of concept study that would deploy, test and demonstrate the ability of KORE's fully integrated system SPECTOR, aiming to achieve Goldcorp's objective.





SPECTOR OPTICS TESTING & VALIDATION
Acquire over 25,000, of core imagery
Evaluate data quality and consistency
Reliability and durability of instrumentation
Speed, and productivity of data acquisition
Identify potential usability improvements
Assess optics design and image quality
SOFTWARE TESTING & VALIDATION
Encrypted cloud data storage and management
Thoroughly test data acquisition software
Tested SPECTOR Geo application
Evaluate workflow improvements, quantify efficiency gains, time saved etc.
SPECTOR AI TRAINING & TESTING
Deploy AI to prepare and classify lithology and alteration from acquired image data
Compare and evaluate the correlation between AI predicted and manual interpretations
KORE provided 2 fully functioning prototypes, calibrated, tested and commissioned on site in Chile within 8 weeks ready for production to begin.
KORE achieved all task on time and on budget, logging the goal of 25,000m of core. Scanning at a rate of 1,000 m per day.
KORE AI automatically classified lithology at a rate of 91% accuracy.
"Goldcorp's $1 million investment in KORE has acted as a catalyst, accelerating their product development pipeline. The initial pilot of the hardware and machine learning software has shown good prediction of geological attributes and we look forward to KORE continuing to customize their product to support site-specific needs."
Erin Workman
Early Stage Study Director, Goldcorp
View More ︎